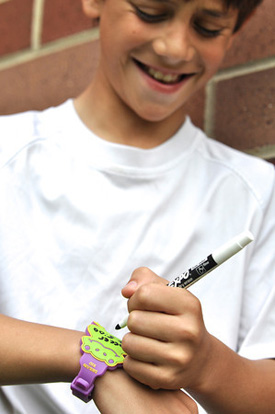 "Floppy Notes on the Wrist"
We are really excited about our new Scribble Bands. Our "original" Scribble Band® success is the reason we decided to expand. We now have many designs and colors in an adjustable "one size fits all" band. Our new bands have a comfortable "watch style" wristband that can be written on and erased using an erasable marker.
Our new Scribble Bands are now in all of the "Scrubs and Beyond" and "Life Uniform" stores across the nation.
Many new colors and Quotes now
coming every month!!
You can also order direct through Scrubs and Beyond & see our Scribble Bands of the month.
Write Short Reminders on The Scribble Band® and Not your Hand!
No more strings around your finger or writing on your skin. Use your favorite Scribble Band® design and color to write small reminders such as:
Assignments
Sports reminders
Give as a gift with a personal message
Nice girlfriend/boyfriend/friend gift with your personal message
Notes from Dad and Mom
Motivational gift with a message
Check out our many Scribble Band® designs and colors at our Scribble Store - coming soon!
Use any erasable marker to write on the Scribble Band® pad and just place the pad under running water and rub with rag to erase for a clean pad.
Call (219) 242-1543 or e-mail us at dave@scribbleband.com to learn more about Scribble Band®.